Finmeccanica acquired Selex from BAeSystems. Selex-SAS has a turnover of £1.1bn pa. Mindsheet were chosen to develop new concepts for urban surveillance (ISTAR) to help reduce the casualty rate and high costs of manual urban patrolling.
It was important to develop urban tactical surveillance concepts that reflected military scenarios in Iraq, Afghanistan and potential future warzones.
The project involved the capture of user requirements from military stakeholders, the identification of suitable technologies, and the development of credible concepts.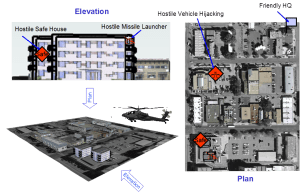 The successful completion of the Finmeccanica project resulted in the development of new tactical ISTAR concepts for their Selex business division.
Of particular importance was the identification of "under the radar" vendors who don't currently operate in this market space but who may be planning an entry sometime in the future.
Clues that indicate future competitor strategy can be gleaned from patent analysis, scientific papers, award of government development contracts or the participation in collaborative research developments.
The contract was primed by Professor David Hughes of the Business Innovation Group who are expert at innovation and uncovering new disruptive technology vendors.