Thank you for your request to join Market Inspired Innovation. We aim to foster debate between innovation practitioners and to keep you abreast of the latest developments in the innovation world. For instance, we want to remove the guesswork and improve your chances of a runaway success.
Watch the video below to find out more about the LinkedIn – Market Inspired Innovation group.

Just in case you haven't yet joined our LinkedIn group Market Inspired Innovation, just click on the link below:

When you look at all the high profile market flops such as the Sinclair C5, Sony Betamax, New Coke, The Ford Edsel, Apple Lisa or the IBM PC Junior with hindsight these failures may seem obvious.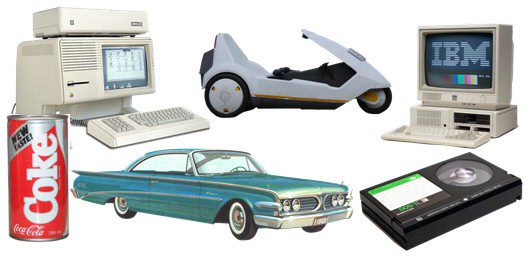 But at the time, to the protaginists it was anything but obvious. These were intelligent people working in large corporations with well funded developments trying their hardest to make a success.
I used to work in large corporations leading the development of Chassis Systems for TRW inc and then later the development of new ATMs and cash machines for De La Rue PLC and within the fog of organisational politics it's very easy to lose sight of market reality.
You can know too much about your development, your corporate preferences or strategy, but don't ever expect the market place to accept a retrograde step in the interests of securing a mutually bright future.
It's tempting to turn to small companies as shiny examples of innovation success. But don't be fooled, you just never get to hear about all their flops, you only witness the successes.
And so, it's the practicalities of implementation that are important to this group as well as the latest theories. Your discussions should cover the messy details of implementation, execution, exploitation, getting to the bottom of market insight, understanding customer priorities and what they care about most and when you do have compelling breakthroughs just how do you build market acceptance? so that your "leave the chasm" far behind.
Is innovation worth it? Sometimes it may seem that you've got everything to lose with very little to gain or in the words of Machiavelli:
There is nothing more difficult to take in hand, more perilous to conduct, or more uncertain in its success, than to take the lead in the introduction of a new order of things, because the innovator has for enemies all those who have done well under the old conditions, and lukewarm defenders in those who may do well under the new.
But to counter this we have the wise words of George Doriot:
Always remember, that someone, somewhere, is making your product obsolete
I'm sorry, but you're damned if you do and you're damned if you don't. So stop grumbling and just learn how to get good at it.
To keep the group clean and focused on legitimate debate, we manually approve every application to ensure a high standard of information exchange and to ensure that participants are genuine.
Therefore, we will get back to you within 3 working days to approve your application.
In the meantime, take the survey on the left of this video so that we can personalise the best innovation resources for you.