The usual approach for collecting market requirements for new product definition is to interview or survey market participants. However, even with good targeting, levels of cooperation can be very low because you often catch participants at a bad time.
The requirement for high survey confidence levels further compounds the problem because you need a large sample size and so the traditional approach can get very expensive.
An alternative approach, pioneered by Mindsheet, was to develop an online community of market innovators and early adopters around a niche market blog. Participants complete online surveys in return for opting in for appropriate market gifts.
Better still, participants are captured at exactly the right time when they are actively seeking solutions to their niche market problems by positioning your offers to come up on the search engines for relevant keyword search phrases.

For example, we recently carried out a new software product survey for ITI Techmedia who were developing a new plugin for the Eclipse development environment to help eliminate software defects. The study called for the surveying of 780 Java software developers in the USA and Asia.
Development of a Market Intelligence Machine
The old interviewing approach would take on average 2 hrs to track down a prospect and to get their contact details and then a further 30 minutes to conduct the interview. The better the quality of the contact details, then the better the conversion rate into a survey participant.
Therefore, we developed an online developer community that automatically enrolls survey participants by offering an appropriate incentive. This dramatically reduced the "heavy lifting" to sign up programme participants. The website was positioned to attract participants from the target market segments by shrewd internet marketing.
Our initial keyword investigation determined that such a site could attract 3,180 visitors per day from the target geographies. However, the conversion rate was much lower than a direct human lead approach and so we only got 30 completed surveys per day. Which meant that the total 780 survey could be completed in less than a month which was still more efficient than the traditional direct approach.
Additionally, any shortfalls in performance could be topped up by direct human contact to ensure that the numbers are met.
This approach had several distinct advantages:
Target market prospecting costs are better contained by using automation at the front end of the survey capture funnel
The system automatically attracts likely customers who are actively searching for software quality solutions and gets to them when they are in the right frame of mind
The system cost-effectively reaches overseas software developers
Survey participant capture is now a continuous activity which allowed more immediate answers so that the programme learning and direction setting could be conducted at will. This made it easier to inform other parts of the programme.
The market intelligence machine still continues to gather intelligence 24/7 all through the year.
The relationship with the target market is better formalised in a database and in an active community site. This lead to more tangible intellectual property and quicker exploitation because the website automatically captured relevant sales leads.
Interestingly, this market really lends itself to Internet Marketing and keyword analysis techniques because the users are so internet savvy. For instance, we discovered that programmers often copy and paste the exact Java runtime error directly into Google. This analysis revealed that:
1989 searchers type in nullpointerexception into Google every day. Since the analysis was conducted, that figure has now risen by 444 searches per day
Likewise, concurrentmodificationexception is now typed in 487 times per day
Therefore, it was easy to reach the target market as they looked up on Google the solution to their software defects.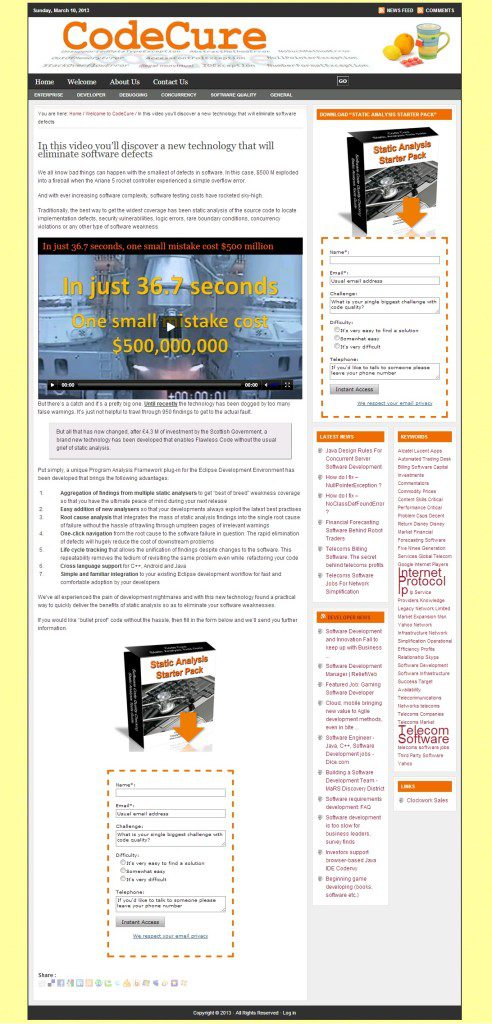 Tags: intelligence, market